One of the titles that the current media has villainized is that of Prepper.  I think it is funny that current media is trying to make anyone who is preparing for hard times is considered a zealot or a nut job.  But heck, the LDS church has been telling us to be a prepper for a LONG time now (food storage).  There is absolutely nothing WRONG with being prepared for hard times, and having your family in order.  The thing that I think they don't get is that as the LDS Church also teaches is that everything should be done in moderation (Keeping Our Balance:  Recognizing and Resisting Excesses in Our Efforts to Live the Gospel – O. Don Ostler Jun 1983).  You can go over board in prepping as well.  If you can't afford it, then you probably should not be doing it.  It should be done when you can and should not put additional stress on the family.
That is just my two cents on the subject.  One of the things I have thought about lately is what I would do if the monetary system has issues.  How can you buy things, and take care of your family if the dollar is worth nothing or no longer valid.  (I know, I know, worse case scenario, but it could happen.)  One of the solutions that people are touting is to BUY GOLD.  You see this all over the place.  Glen Beck is big into buying GOLD, but not everyone has millions of dollars to stock pile gold.  Gold is expensive, and not your average family can purchase Gold Coins
.
There are a lot of ways to buy gold, you can buy it from a lot of companies out there, just do a google search on Gold Coins, and you will get more hits than you can view.  But that is not a solution for every person.  I think that the majority of the people who are interested in buying coins with a greater than face value monetary value should look into buying silver.  NOTE: Don't think I have stock piles of coins laying around my house, this is something I have started to do, and I am slowly building up my supply.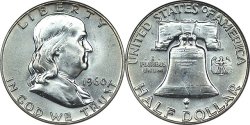 Here is what I do.  I collect or cache two types of coins.  I have selected two cheaper silver coins to collect.  The ones I am currently collecting are Franklin Silver Half Dollars
and Mercury Dimes
.  Below are the reasons why I have selected these two coins.
They are EASY to find.  Both of these coins can be found easily on the coin market.  You can find them on most auction sites, as well as coin collector stores.
They are very easy to afford, in mixed lots or as singles.  If you look at the value of the coin, or the melt value, you can see that they are worth a lot less than the smallest Gold Coins.
And the most important part is the values are less than gold coins, so you have a greater ability to use them to purchase items if you need to.  It is easier to carry around a hand full of Mercury dimes and use them as $2.00 pieces instead of trying to find someone who can handle a several hundred dollar gold coin transaction.
I buy American coins, just because that is the type of person I am.  I like to buy American where possible.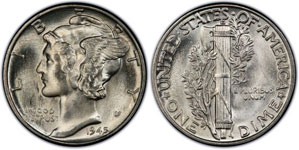 Here is how I find the coins I wish to collect.  First, I go to a site that tells you what the melt value of the coin is.  I use a website called Conflation.com.   I look for the current value of the Mercury Dime ($1.76 on 4/26/2013) and the Franklin Half Dollar ($8.80 on 4/26/2013).  I then go look on eBay to find coins that are being sold for lower than their melt value, or close to their melt value.  Follow the links below to go directly to eBay to do your search:
I have found that it is better to look for Mixed lots than for individual coins.  The individual coins have a tendency to go higher in price because they are being marketed to collectors that need that particular coin for their collection.  Where the mixed lots are usually designed for people who are getting rid of the extra coins they have, and don't want to worry about selling individual coins.
To help you start your search, below are some current eBay auctions that can get you started.  Make sure you check the sellers reputation, as well as the description.  You also want to make sure you check the shipping charge, remember, you are trying to get these coins for as close to the melt value as possible.
[ebayfeedsforwordpress feed="http://rest.ebay.com/epn/v1/find/item.rss?keyword=Silver&categoryId1=253&sortOrder=BestMatch&programid=1&campaignid=5337311708&toolid=10039&listingType1=All&lgeo=1&feedType=rss" items="10″]